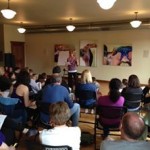 Deborah Adele is an engaging, lively, and thought-provoking speaker who is not afraid to share stories from her own years of living and learning. She facilitates thoughtful and tangible ways of showing up to life in new ways, leaving participants with a dynamic combination of hope, inspiration, and practical knowledge. 
Topics for workshops, keynotes, and trainings
The Yamas and Niyamas  
The Mind  
Meditation                                                              
Other  Workshops
PRIVATE CONSULTATIONS   [currently unavailable]
Contact Deborah for further information.